Finding Financial Freedom
shows you the
right track towards success!
You are reading this because you are finding financial freedom and want change. Our quest towards abundance and prosperity will start now.
But, have you ever wondered that having so much money is being materialistic? Maybe not because we all need wealth to survive in this world, just make sure that you have balance and harmony towards prosperity. Meaning to say, you are dedicated to your quest in prosperity at the same time you have a strong physical, emotional and spiritual aspect.
It is acceptable that you work hard for financial freedom but remember that you also need a break to have some fun and spend quality time with your love ones.
If it is time to work then work but if it is time to play then play. It is all about time management and prioritizing your effort towards success.
You want to retire soon and enjoy life to the fullest. You can do this by having a sufficient amount of money that can earn interest and sustain your chosen lifestyle.
Possibly, you are now travelling your track towards prosperity and abundance. I recommend that do not delay your actions towards abundance. If you can do it now, then do it now.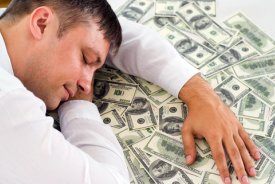 Perhaps, you are employed right now with a stable job. Make that job security an opportunity for you to learn more about entrepreneurial business and investment.
To become a great leader, must first become a great follower.
You are employed right now and it would be great to have a business venture at the same time. Remember that you prefer to retire soon and enjoy life thus expect a lot of work.
A typical person will start working at the age 20-25 and retire at the age of 60-65. That is fine, but my point here is we have been blessed with skills and talents that we can go beyond our potential.
Explore the power within us. You can achieve more success. An ambitious person will start the quest of finding financial freedom at age 20-25 and planning to retire at the age of 35-40.
There is a big difference in time when you prefer to retire soon therefore expect a lot of work to do. It would be great to play now then play later.
If you want change, reminisce all the pain in your past then gain the motivation with these pains because you prefer not to go back to those pains again.
In the process of finding financial freedom, you need to have faith while other people doubt or laugh at you. We will plan and work hard for our dreams to come true while other people sleep and wishing only that maybe some day their dream might come true. You save all the resources that you receive from your multiple income streams while another prefers to waste. We will be grateful of the things that we have right now and feel good about it while others hate then those in doubt will fail while you will succeed. Believe in yourself!

Return from FINDING FINANCIAL FREEDOM to FINANCIAL GOALS
Have A Great Story About This Topic?
Do you have a great story about this? Share it!