Formula to Abundance:
Increase and Diversify
the income streams.
Life and economy are an upward trend. The formula to abundance is increasing income capacity. We need to consider the inflation rate in this scenario. Inflation is in an upward trend.
We need to strive for having a multiple source of income. Or else, inflation will eat our money. Example: At present, a 100,000 can provide us a car but after 15 years, maybe, it can only produce us a motor bike.
At first, it may be challenging to find other ways of earning money. Thus, place your savings in a portfolio which the interest rate is higher than the inflation rate. 
In doing this, the value of your money would be the same as time passes by. Protect the hard-earned money because it came from hard work and employment.
Indeed, it is a good fortune to inherit a business or investment but some of us are not that lucky. Usually, we start in employment as a source of income. Get familiar with the system but never be drowned.
It can be tempting to stay in an employment industry when the salary is high. Do yourself a favor. In employment career, we are helping someone achieve their dreams.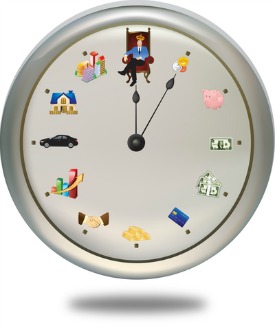 How about your dreams? Are you satisfied in the continuous cycle of working, earning, working and earning? We are not born to become robots. Choose the right path to success.
As we get aware with the system of being employed, start having small business or investment to jump-start the success. The business can give us an extra source of income and we need that to attain our dreams.
Eventually, the business and investment will become stable to sustain the lifestyle. That moment is early retirement. In employment, if we stop working, compensation will also stop. While in business or investment, it continues to grow as long as you built the right foundation.
The formula to abundance requires in placing the eggs in different baskets. The rationale of doing this is being prepared for what might happen. If one basket fails, you have an extra to sustain the lifestyle and expand again. But, having one basket is risky because if it fails then you don't have any other means of earning.  
Sometimes and some of us are waiting for the right moment to start our path to success. There is no perfect time to do it. Just dare to jump and the rest will be history.    
Return from Formula to Abundance to Financial Abundance Formula.

Have A Great Story About This Topic?
Do you have a great story about this? Share it!